The SIRIUS is also named after the brightest star in the sky thanks to its acoustic radiance. It is located right next to the constellation Orion. This is to express that the technical concept of the SIRIUS is derived from the ORION. During the design development I was inspired by the Japanese art of origami.
The SIRIUS also features wooden body wings attached to a central aluminum middle section and moveable pickups. The continuous metal structure consisting of the aluminum center section and a titanium truss rod attached to it is extended in the SIRIUS by an aluminum headstock. The warm sound influence of the aluminum and the sustain-promoting effect are further enhanced by this. For anyone who likes to let the notes stand or tip over into the harmonics, the SIRIUS is a dream instrument. But it can just as well be played extremely dynamically and impulsively.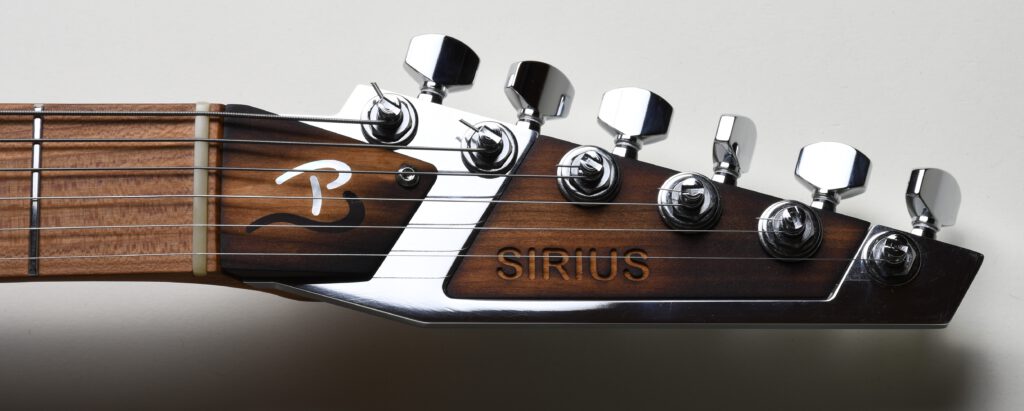 The body parts are three-dimensional and extremely ergonomic. The balance is perfect both when playing sitting and standing. 24 stainless steel frets and a compound radius of the fingerboard are standard.

The truss rod nut can optionally remain uncovered to emphasize the guitar's purist character.
The bridge consisting of six individual aluminum bolts with inserted titanium riders offers superior string separation.
The pickup housings are made of wood. For the electrics I use only the highest quality and proven components.
I build each SIRIUS as an individual one-of-a-kind, offering options in wood selection, pickup placement, scale length and decorations, among other things.
Due to their construction, the SIRIUS guitars are very light, similar to the ORION, and weigh around 3 kg, depending on the choice of wood.